Carmelite Monastery of the Mother of God
DO YOU HAVE A VOCATION?
We invite you to visit our home nestled up in the hills of Marin County. Perhaps you are wondering about our life. We welcome you and would love to tell you about it.
We are Carmelite Nuns who devote our lives to the love of Jesus Christ, to union with Him and His prayer for the world and for His Church. Here, at the Carmel of the Mother of God, we have a special call from Him and from Mary, His Mother, to pray for our own Archdiocese and also for Russia. We were founded in 1965 in answer to a summons from Our Lady of Fatima, received by our Foundress, Mother Miriam of the Trinity. Our Lady has asked for prayers for the conversion of Russia. Mother Miriam responded to that call as though addressed specifically to her, and for those who would join her in founding his Carmel.
After the fall of Communism, two of our Sisters went to Russia to found a small "Carmel" in Moscow. However, it was eventually discerned that our vocation is to pray for Russia within our Carmel here in the Archdiocese of San Francisco. Our former home in Moscow has since become the nucleus of a thriving Catholic parish, under the direction of the Divine Word Fathers. St. Olga's Parish began there and now has expanded into a larger building nearby. There are already 350 parishioners who attend Catholic services there regularly.
Here in Marin County we continue our life of love for God in contemplative prayer for the entire Church, for our missionary parish in Moscow, and in a special way for our own Archdiocese in San Francisco.
What is a Carmelite life of prayer? The Order of Our Lady of Mount Carmel originated on Mt. Carmel in the Holy Land during the time of the Crusades. A group of hermits, whose love for Jesus Christ drew them to a life of solitude, received the Rule of Carmel in the 13th century from the Patriarch of Jerusalem. Later, the hermits moved to Europe where the ardent love for God caused the order to spread rapidly. Then, in Spain, St. Teresa of Jesus, inspired by this same burning love for Jesus, initiated a reform which is now known as the Order of Discalced Carmelites. She founded several small communities of nuns, devoted specifically to contemplative prayer, who would lead a simple life of generous love and devotion to Jesus Christ and His Blessed Mother. These communities also spread rapidly throughout the world.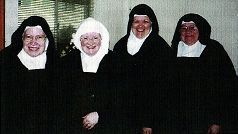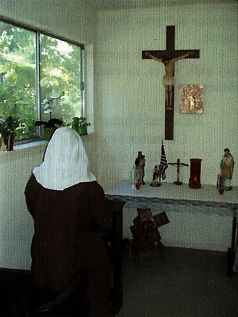 As St. Thérèse of Liseiux, St. Teresa's spiritual daughter, expressed it: "In the Heart of the Church, I will be Love."
Our Carmel in Marin County was founded from the Carmelite Monastery in Carmel, California. Archbishop Thomas McGucken invited us here to the Archdiocese of San Francisco, and donated this property for our Carmel.
Since our arrival in 1965, we have established a new foundation in Finland. Our Sisters there continue the special mission "in the heart of Finland" for that nation and for the universal Church.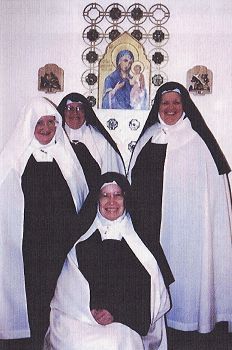 We invite anyone who wishes to inquire further about our way of life to visit us. A love for God in Jesus Christ, for contemplative prayer, and ardent spirit of apostolic love for the Church, for our Archdiocese, and for the whole world, and in Russia, may mean a possible call to our Carmel. We will be happy to discuss any further requirements with you and answer any questions you may have about our contemplative way of life.
May Jesus Christ, His Father, and the Holy Spirit, with our Blessed Lady of Mt. Carmel, bless and inspire you, giving you guidance and great love for Him and His Church.
If you wish more information you may call, write, or email the following address:
Reverend Mother Prioress
AnnaMarie Vanni OCD
Carmelite Monastery
530 Blackstone Drive
San Rafael, CA 94903
(415) 479-6872
email:
sram@motherofgodcarmel.org